A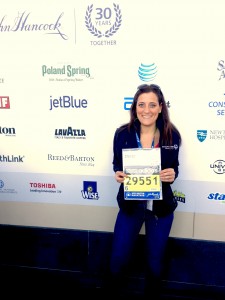 bout 5 years ago, when I lived in Brookline, MA a friend of mine was trying to get me to start running with her.  At the time, she was training for her first marathon and I remember thinking she was crazy! I had no desire to run, let alone train for a marathon. I often argued with her and told her I couldn't run, that I wasn't built that way, and that my body was not physically capable of such a thing.  Looking back, I could not have been more wrong.  Today, I love running and wish I would have started sooner because everyone can be a runner! Whether your run a 12 minute mile or 7 minute mile you are still a runner!
About three years ago, when I moved to NJ, I joined Can Do Fitness and started taking boot camp classes.  Each morning on my way to class, I would watch a woman run sprints on the treadmill.  She intrigued me.  Her dedication, passion, and persistence was inspiring.  One day, I decide to hop on the treadmill next to her and introduce myself. Her name was Hilary and I knew right away she was someone I needed in my life.  She was so strong and made running look so easy and effortless, so I decided to start arriving to the gym early so I could run a little bit with her before class.
As the weeks went by, I started to increase my mileage. Hilary and I became good friends and she encouraged me to sign up for a 10 mile race as well as pushed me to continue running and training for longer distances.  She even told me about a running group she was a part of, Run Around Princeton (RAP) and invited me to join her one Saturday.  Hesitantly, I went.  I was afraid of being the slowest one in the group and afraid that I wouldn't fit in; but soon discovered that I had no reason to be nervous.   The people there were fantastic. RAP is a mixed group of men and women from different backgrounds, experiences, and goals and I quickly fit right in.   I was hooked!!  I started running with the group consistently and could not be more grateful. The running group changed my life. I have met so many inspiring people and have developed so many amazing friendships. I feel truly blessed. Running with the group has helped me to get faster and pushed me to challenge myself in ways that I never thought were possible. With the groups support and encouragement I began training for my first marathon.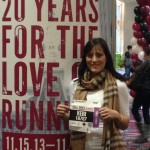 In 2013, I ran The Philadelphia Marathon. The training at times was long and grueling but I had made up my mind to do it and once I set a goal to do something, I never back down.  When I started training I thought it was going to be a one and done type of thing, check it off the bucket-list, but I was wrong.
When you run a marathon there are times you ask yourself, why am I doing this, you tell yourself that you're never running again, but then once it's over and you cross the finish line, those questions/statements don't exist.  What is left is the sense of accomplishment and pride and sense of need to sign up for another one.
You see, marathons allow us to confront our true selves and develop our inner strength. That is one of the main reasons why I think everyone should experience it at least once in their lifetime, or in my case at least 4 times. This fall, I will be running my fourth marathon, the NYC Marathon. Who wants to join me?!?!?!
In case, the above wasn't reason enough here is a list of 10 other reasons you might want to consider signing up for a marathon 😉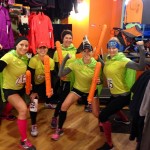 10 reasons why I think everyone should run a marathon….
1. It will challenge you in ways you never thought possible and after you will feel like you could conquer the world.
2. Gives you the inner strength to succeed- knowing that anything is possible
3. You will find yourself and learn things about yourself that you never imagined
4. You will build your endurance and lung capacity
5. You will meet some of the most inspiring people and develop long lasting friendships- everyone has a story to tell
6. You will get in the best shape of your life and it will help introduce you to other fitness outlets (i.e. yoga, CrossFit)
7. You will have a hunger to do better and strive to beat your time- making you stronger and giving you the opportunity to improve upon yourself
8. Gives you a great reason to travel
9. The medal on your wall will remind you about how strong you are and what a badass you are.
10. You will learn that you are stronger than you think and stronger than you give yourself credit for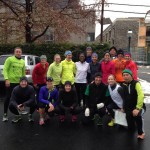 Sign up for a race today 🙂 Why not?!?!