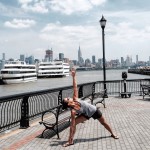 This week I am preparing and packing for vacation.  My husband and I are going to be taking a two week cruise in the Mediterranean. We will be visiting Italy, Turkey, and Greece.  In order to prepare for travel, one of the most important things I do is to plan and write down my schedule and workouts ahead of time.  It is important for me, that while I am away, I still find time to workout. Working out is an important part of my everyday life and I want to make sure I can continue to maintain some sort of balance and routine even while I travel. Plus, since I have started my training for the NYC marathon I need to run 6 days a week.  So it's even more critical for me to have a workout plan in place. I want to be sure I get my workouts in and still have plenty of time to enjoy this once in a lifetime vacation.
I know a lot of people may think that being on vacation gives you permission to not workout, to rest more, and/or to eat more.  However, I feel that can be a slippery slope.  While, I totally agree that you should enjoy your vacation, listen to your body  (if you need rest, take it); I know that once you fall off the wagon it can be hard to get back on.  Additionally, after about a week you can begin to see an aerobic decline of 5-10%.  So while you are  on vacation, you don't need to spend your entire time working out, but do try to squeeze in some time! Maybe in the morning before breakfast (great way to jump start your day) or in the afternoon before dinner (maybe some yoga to help stretch out from the days activities).  This will help you avoid weight gain and make the transition back to real life a little easier. You'll be happier you did!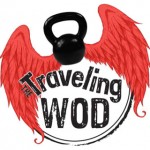 When thinking about your trip you may want to consider the following:
Is there a gym where you will be? Do they offer classes? Machines? Weights? If so, find out what time the hours of operation are and plan to get in their when they open. Early morning tends to be the quietest time and you don't typically have to wait for machines.
If you're looking for some great travel workouts and ideas, visit: http://www.thetravelingwod.com/p/traveling-wods.html. This site offers body weight movement workouts that are fun, quick, and are at a high intensity level. You can get a great workout, build strength, and burn calories without spending hours in the gym.
Are their gyms in the area? Do they offer day passes?  My husband and I have scouted out two CrossFits to visit while we are away!
How much walking and sight seeing are you doing? Maybe plan a hike! If you plan to walk a lot that day maybe then incorporate some strength training and/or yoga to your day to balance your cardio work.
If you are having a more relaxing day, maybe consider starting your day with a run. This helps to kick start your metabolism, gets the blood flowing, and body moving.  I love running on vacation!  It gives you the opportunity to explore new areas and take in some different sights.  This can make for very exciting runs and the miles seem to fly by.
Lounging by the pool? While you're lounging, why not hop in the pool every 30-60 minutes for a swim?
Rent a bike, kayak, surfboard, or paddle board. Many rental shops also offer lessons. Try something new and burn a few calories while you're at it.
While getting away from reality is good for the soul, and getting away from your usual workout routine is good for the body; vacation can be the perfect time to exercise. It can be a great opportunity to explore your surroundings, experience new ways to move your body, and have fun.
So plan ahead, pack your workout clothes and set yourself up for success and not excuses.
Be sure to stay tuned…  I will be posting some of my travel workouts while I am away for you to try at home 😉