Whether by car, train, or plane, be prepared to travel this holiday season with a few yoga poses that will help you feeling good and prepare your mind and body to deal with long periods of sitting. 
Yoga techniques are a great avenue to remind yourself to move and bring attention to your breath and body. Completing a few poses can help calm the mind and reduce stress and anxiety that we may get from traveling.
Below are a few yoga poses that you can easily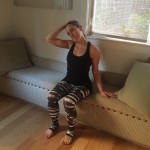 do anywhere and can help you feel remarkably better during your travels.
Neck Rolls– Exhale, drop your right ear to your right shoulder, look down toward your chest. Inhale, drop left ear to left shoulder, look up.  Repeat
Shoulder Lift– Inhale, raise your shoulders toward your ears. Exhale, completely let go, drawing your shoulders down your back.
Seated Side Bend– Interlace your fingers and press your palms towards the ceiling. Inhale, reach up. Exhale, draw your hands to the right.  Inhale, come back to center.  Exhale, draw your hands to the left. 
Seated Cat-Cow– Place your hands on your thighs.  As you inhale, draw your chest forward and your shoulders back; think about spreading your collarbone. Exhale, round your spine and draw your shoulders forward, pull your belly in. Look down toward your navel. Repeat
Seated Twist– Place your left hand on your right knee or left armrest (if you're in a plane) . Inhale, lengthen your spine. Exhale, twist to your right, drawing your right shoulder back.   Switch sides.
Seated Figure 4– Bend your right knee and place your right ankle on top of your left thigh. Interlace your fingers under your right thigh.  Sit up straight and draw your left knee down towards the ground and gently pull your right knee up. Switch sides.
Ankle Rolls– Get your blood flowing by rolling your ankles in a circular motion, both to the right and the left several times while stretching the leg out in front of you. You can also point and flex your feet.
Forward Fold– Separate your feet to hip-width distance, bend your knees, and bring your chest to your thighs. Fold forward, grab opposite elbows or maybe interlace your fingers and drop them overhead.  
Lunges– Begin standing. Step your left foot forward and bend your left knee 90 degrees.  Keep your right leg straight and right heel lifted. Arms can rise overhead or keep your hands at your heart center. Then step back with the legs together. Switch sides. Maybe  add a twist, placing your palm down on the inside of your forward foot.         
Seated Savasana

– Close your eyes and let go of the noise and other distractions. When thoughts come, just listen to your breathe and let them go.