The N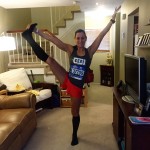 YC Marathon (or NYC's biggest block party) is made famous first by its people (the crowds of support) and next by its hills, bridges, and long straightaways. Standing at the starting line on the Verrazano Bridge can be quite exciting but also overwhelming.  So before you go, check out some important pieces of info, that may help you along the way.
Ten things I learned from running the NYC Marathon: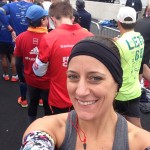 Dress for success. Layers help to keep you warm at the start and you can remove them as the temperature rises and you begin the race.
Eat well before the race and during, fueling up properly is important.
Take advantage of the water stops and always thank the volunteers. I noticed that the water stops on the left were less crowded then the ones on the right.
Watch out for banana peels during the second half of the race so you don't slip. There's a lot of them!!
There are 50,000 runners so the streets are VERY crowded and it can be hard to maneuver. I struggled with people stopping right in front of me.  At first, I started running down the middle of the road but then found that the edges were a little "less" crowded. It's very hard to maintain a consistent pace because you often have to squeeze between people, exerting a lot of extra energy.
Be patient, breathe, and stay calm. There are tons of amazing athletes, all of which are trying their best, and have a story to share. So, take a look around and acknowledge the incredible athletes along the way, maybe even share a smile, hello, or high 5! Maybe even make a friend. I met Ann and boy was I grateful I had!
Run up the hills at a consistent effort rather than a pace. Maybe, shorten your stride, use your arms. When you reach the top, lean into it, open your stride, and let gravity pull you down. Also, save some energy for the huge mile long hill at mile 23.
Focus on using your gears to tackle the hills, perform a head-to-toe inventory on your form to remind yourself to run with good posture. And remember to breathe!
Smile at the cameras, wave, draw energy fRom the crowd, and never give up.
Take in all the magic and enjoy the ride. The time flies so be sure to look up every once in a while and enjoy the beautiful sites!   Cross the finish line smiling and strong!!