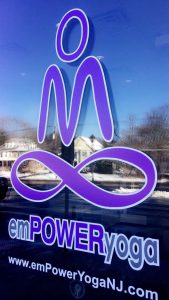 Dear Yogis,
Tomorrow is Empower Yoga's one year anniversary and I wanted to take an opportunity to reflect and share some of the thoughts I have going into year two.  I opened Empower Yoga a year ago for a few reasons. First, to have a heated power studio in Central Jersey because there wasn't one before now, but more importantly to create a safe place that people could come to learn and grow- physically, emotionally, & spiritually. I named this space Empower Yoga because I want you to feel empowered every time you walk out the door. I want you to know that you are so much more than what you sometimes believe and I hope through our classes at the studio, you truly start to see that and you begin to discover your most powerful self.
I started teaching yoga as a way to give back to a community that gave me so much. I believe that we all have the capacity to feel healthy and strong, and I want to help you feel that too. When we allow our bodies and minds to move freely, when we let go of our ego, when we quiet the chatter in our heads, and join together in community and breath, we begin to experience a profound sense of being truly awake and alive.
We live in a crazy world and sometimes all of life's circumstances can weigh us down and hold us back. We are constantly bombarded with information about how we should live or what we should do. It can be intimidating and very overwhelming, but I hope that through your yoga practice, you can get a glimpse into the space beyond your busy mind; where you're already calm, clear and where all your answers lie. A place where you can let go of some of the emotional baggage and just be.
Now being a yoga teacher does not make me an expert on life and all things spiritual. I can only authentically share what I have learned from my own experience. It's your job to put your yoga into practice in a way that fits with your daily life. I can instruct and inspire, but you must do the work.
Just remember, the days you feel like skipping your practice are the days you need it the most. Keeping yoga a consistent part of your day and/or weekly routine will help you to thrive both on and off your mat. Yoga will help you in those challenging moments you face. Once you've been practicing a while, you'll notice a calmer, happier, and less anxious version of you. I can promise that I will always be here to support you in anyway I can. Come sweat, move, and breathe with me! Come discover what you're truly capable of.
Thank you for being a part of this amazing Empower Yoga community and allowing me to guide and instruct you.
Much love,
Keri