Thinking of running a World Marathon Major (WMM)? Have you ever wondered which of the Abbott World Marathon Majors (Tokyo, Boston, London, Berlin, Chicago & NYC) has the best crowds, best finisher medal, crowd support, food, or the best course?
As someone who has completed all 6 of the World Marathon Majors, I've been asked questions like: "Which course was your favorite?" or "Which marathon was the hardest?" Well I have answered some of the popular questions below. This is strictly my opinion. When deciding on what Major you want to tackle, there is no right or wrong answer, but here some info. that may help you to decide!!
Enjoy!
Which WMM was the easiest to get into?
CHICAGO
For ways to gain entry into the Chicago Marathon you can either qualify, enter the lottery, or run for charity. I got in through the lottery, along with many others. There are lots of spots available.
Which WMM had the best Expo?
NEW YORK CITY &  BOSTON
These expos have the best set up, are well staffed and well organized, offer great presenters, lots of great vendors, knowledgeable and supportive staff, and limited wait time.
Which Marathon Major had the BEST race shirt?
BOSTON
Definitely Boston. The shirt is a long sleeved, v-neck and has the awesome logo on the entire back.  Plus at the expo you can also purchase the cool, one of a kind iconic jacket. Great for bragging rights.
It definitely couldn't be Berlin- they don't even give you a shirt.
Which WMM was the most organized?
TOKYO
Japan is known for its technology, organization and efficiency. The Japanese take promptness very seriously, which was nice because it meant everything started right on time. Their time management also meant that they strictly enforce a time cap that has checkpoints every 5 kilometers, the time cap is around 7 hours, so the average marathoners doesn't need to be too concerned about this.
Which WMM had the best crowds?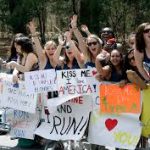 BOSTON
All of the majors have great crowds, but to me, Boston just stands out. For me it was the Wellesley girls that I loved hearing the most. On Marathon Monday, it's tradition for students to cheer on Boston Marathoners who race past campus near mile 13. Thousands of women line about a quarter mile of the course, motivating runners with hoots, hollers, high-fives … even kisses. This is referred to as the Wellesley Scream Tunnel because it is so loud, you can hear it from a mile away.
Which WMM had the best course (considering sights and scenery)?
NEW YORK CITY
This was tough- I have enjoyed every course. I loved running across the Tower Bridge during the London Marathon, near Wrigley Field in Chicago, and down Beacon Street in Boston. However, starting on the Verrazano Bridge in NYC and running through all the boroughs was pretty awesome, each is very unique and has its own charm.
Which WMM had the best finisher medal?
BOSTON and TOKYO
Boston because anything with a unicorn is super special, it's also what it represent- being Boston Strong.
I really like Tokyo too, I love the GOLD!!
Which WMM had the best after party?
CHICAGO
The Chicago Marathon 27th Mile Post Race Party is a blast! This event takes place at the famous Grant Park and offers live entertainment, free massages, and free beer.
Which WMM had the best race swag?
NEW YORK CITY
In the pre-race packet I received lots of goodies in addition to my cool long sleeve race shirt. The finisher poncho is probably my favorite though. This fleece lined poncho keeps you super warm post race, way warmer than the metal heat blankets most races provide.

Which WMM had the best race beer?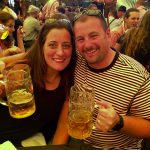 BERLIN
Runners love their post race beer and Germans know beer!! Germany offers the widest selections. And since the marathon takes place during Oktoberfest, it just adds to the party.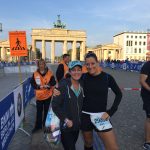 Which WMM had the best travel experience?
BOSTON and LONDON
Boston just holds a special place in my heart. I love this city- I lived there and fell in love with my husband there, so going back is always a lot of fun. I love the food- visiting the North End and Beacon Hill, shopping down Newbury Street,  and walking along the Charles River. Boston is an awesome city and a place I call home.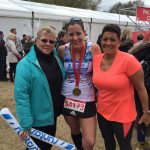 London was a lot of fun to visit too- getting to see Buckingham Palace, the changing of the guard,  visiting Kensington Palace, this list goes on and on… plus my mom and sister joined me for this trip which made it extra special. I truly appreciated their support!
Which WMM had the best pre/post race food?
CHICAGO
Chicago has deep dish pizza, Tokyo has sushi and ramen, NYC has NY style thin crust pizza, Berlin has bratwurst and pretzels.
I think my husband and my food tour around Chicago topped the charts.
Which WMM was the most emotional?
BOSTON & TOKYO
It's incredibly emotional to cross the finish line at Boston. Boston was like a dream come true and having my dad right there at the finish line, cheering me on was very special. This was the last race he saw of mine. Tokyo was also emotional because it was when I received my 6th star and ended my 4 year pursuit to finish the world's majors!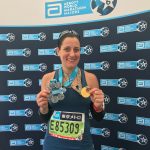 Which WMM would I recommend for first timers?
CHICAGO
The Chicago Marathon is the easiest of the Majors to get into. Plus this course is easy to navigate, it's flat & fast, offers great crowd support and manageable logistics. The start and finish are close to each other and the race is well organized. It would be an ideal race for someone wanting to run their first marathon.
Which WMM would I recommend to someone who only wants to run 1?
NEW YORK CITY
New York City has it all. It's also the largest marathon in the world. Running through all 5 boroughs is exciting. It's fun to see how different each borough is and how the entertainment varies. Starting on the Verrazano Bridge is pretty awesome.
If I could do 1 WMM over what would it be?
BOSTON
Boston is the oldest, most historic and most popular marathon in the world. Plus, it's so near and dear to my heart. If I could run it every year, I would.
Which WMM would I not want to run again?
NEW YORK CITY
Race logistics are a nightmare. Getting to start requires a car, train, and ferry! You need to get up super early to ensure you make it to on time. As a result, you end up waiting a long time before your race actually begins.  Each time I ran, I arrived by 8am & started around 11 am. The weather by the start is usually cold, so be prepared and dress warm.
In conclusion:
Each WMM is unique and has its own appeal. I have enjoyed my experience running each of these. I challenge you to consider running one if you haven't already. Throw your name into the lottery and let fate decide. You never know what could happen.
Happy Running!