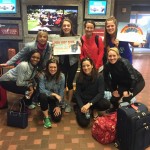 Last weekend, myself and approximately 40 other people had the unique privilege of joining the Brooks Elite Running Team (aka the Beasts) at their Altitude Training Camp in Albuquerque, New Mexico.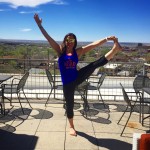 I was asked to be a part of Brooks' Run Influencer Program this past January. Influencers are people who live an active lifestyle and have clout in their communities. As an influencer, I have an opportunity to go behind the scenes and learn more about the Brooks brand and what they stand for. Since January, not only have I started to discover their theories and ideas about design for their shoes and apparel, but also see and experience the type of training that goes into being a Brooks elite athlete.  It was very exciting to see how they're coached and properly fueled to ensure training, race, and recovery success.
I always liked Brooks running shoes and was a fan of the Brand, but after this weekend I could not love them more. Mostly because of their openness, generosity, thoughtful planning, and hard work that goes into everything they do!
Brooks is a running company. They are about providing high quality shoes and gear designed for runners by runners. Based out of Seattle, Washington, the Brooks Team of employees are a passionate and hard working bunch who listen to their customers and work hard to ensure that each one is satisfied. Not happy with a product, how the shoes fit, how your capris feel, etc… send them back and they'll find something else that's right for you, even if it's been worn. They really want everyone to be happy so they can run happy. Brooks truly embodies the spirit of the running community.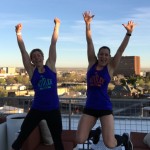 Part of the weekend festivities was getting to meet like minded individuals who share the same passion for running and living an active lifestyle. I literally spent the entire weekend talking about running and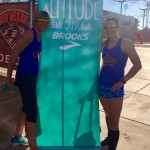 working out, it was like living in a dream that I didn't want to wake up from. Two words that come to mind when describing the weekend are inspiring and motivating. I talked to so many cool people and learned so much, it was a true highlight of my life.  The bonds we shared and the memories we made, will sure lead to lifelong friendships. It truly validate my love for the sport and was one of my biggest takeaways from my trip.

So one of the other main purposes of the trip was experiencing running at altitude and learning about how it can help you become a faster and better runner.  
The 411 on Altitude Training: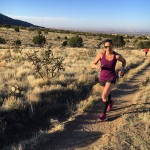 Training at altitude can trigger physical and mental benefits that will last for several weeks after you return to sea level.
When at altitude, the adaptations start almost immediately. Levels of EPO, a hormone that stimulates the production of red blood cells, spike to a aximum within 24 to 48 hours of arriving at altitude. Studies with elite athletes (like the Beasts) have shown that levels of hemoglobin (the protein in red blood cells that transports oxygen) can increase by about one percent per week at altitude, which may translate into a one-to three-percent boost in race performance. Hence, why pro athletes will spend weeks training at altitude leading up to a race. Pretty cool right?!

Don't have a few weeks to spend at altitude? Well even short stints at altitude offer some advantages because the lack of oxygen makes the training feel harder. You have to learn to tolerate greater discomfort while you run, without having to push harder or run faster and add more stress to your joints and muscles.
Interested in taking a trip to run at Altitude? Here are a few more things to consider before you go and while you're there:
Destination: Choose a destination with good trails- Albuquerque, Flagstaff, and Boulder are very popular destinations.
Fuel: You need iron to boost hemoglobin levels, so include iron-rich foods–like red meat, beans, and dark leafy greens, to your diet before you leave and once you arrive. You also need to pay more attention to staying hydrated, since you'll be losing more fluid in the dry mountain air.
Side Effects: Normal side effects of altitude training include shortness of breath, waking up in the night, increased urination, anxiety and increased ventilation. Signs to be concerned about are dehydration and fatigue/weakness.
Back Off: Don't try cramming in too much at once. Stick to easier runs and reduced mileage in the beginning. First, see how you feel and how your body responds, then add more.
Think Effort, Not Pace: Depending on the elevation, your workouts can be about 15 percent slower than usual. Ditch your watch and focus on running by feel, so that your effort matches your goals for the session. If you finish an easy run feeling like you've just run a hard race, you're off-target.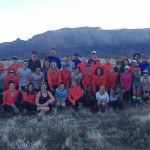 Thank you again Brooks Running for the awesome weekend filled with lots of fun, knowledge, and the opportunity to train like the pros.
Happy Running!