PART 3: My top 10 Ironman Moments
Ironman was an incredible journey. While I have a ton of favorite moments and wonderful memories from the weekend, I thought I'd highlight my top 10.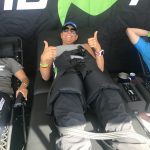 10. I had a BLAST shopping at the expo. I couldn't wait to get my
official Ironman  backpack and some new gear. While at the expo I came across Rapid Reboot (which is a compression boot for athletes). They are great for recovery as well as pre workout activation! Halfway through the run, my husband  surprised me with a pair! I couldn't believe my eyes when I saw him standing there holding them.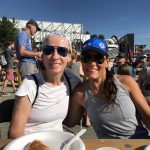 9. The pancake breakfast with my friend and teammate Eileen. On Saturday before the race, Ironman held a special all you can eat pancake breakfast.The pancakes were fresh and delicious. Eileen was in Placid volunteering for the race. It was so wonderful to have an opportunity to see and talk to her before the big day.  She offered pointers and words of encouragement. It was great to know she'd be there cheering me on!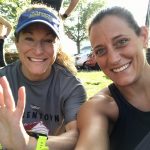 8. Walking into the water with my friend, Amy. As we got ready to start, we took a moment to relish in what we were about to do. She turned to me and said, "thanks for being a part of this journey with me." and then we started our race. That was a special moment, one I will never forget!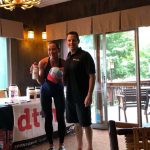 7. Seeing my coach right before I finished the second loop of the bike course and again right before the finish of the run. On the bike, you hit a major hill before returning to transition, it's a tough part of the course so it was great to have him there to help give me a little push. Seeing him again before the end of the run was awesome too. He ran about a ½ mile with me. It helped add a little pep to my step, which is hard to do after spending over 14 hours on your feet. His support ment a lot.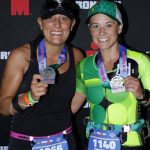 6. I had a few friends and teammates running the race with me. One in particular was Christina. I had seen her at certain points throughout the day and towards the end of the second loop of our run she caught up to me. The second half of the run was tough, my brain was a little fuzzy and my legs were pretty tired, but seeing her gave me a little push. She helped me to pick up the pace, especially for those last three miles when all I wanted to do was walk. It was nice to have someone to be with and I appreciated being able to run and talk to her.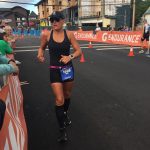 5. The incredible spectators and awesome volunteers. They were not only motivating and encouraging, but truly looked out for you. I was particularly grateful for the women in the tents who helped me get undressed and dressed during transition, packed my gear, and made sure I had what I needed before exiting. I could never have gotten into my sports bra without them!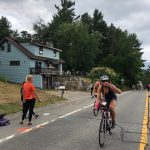 4. Seeing a crow during mile 92 and 106 of the bike. After my dad passed a crow started to appear- on the golf course with my husband, at the yoga studio literally tapping on the back door, outside our house, near my car… We started to say it was my dad, he wanted us to know that he was there with us. Well during the race, wouldn't you know that on mile 92 and 106 of the bike a crow dropped down into the middle of the street and cawed at me. I couldn't help, but smile. I knew my dad was there cheering me on.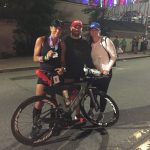 3. Having my husband and bestie Beth cheer me on throughout the day and especially there at the finish line to see me cross and then spray me with champagne, that was really special. There are moments throughout the race you begin to question yourself, life, basically everything and seeing them made me smile and helped bring me back to the present moment. It was nice to have them there to celebrate such a huge accomplishment with me.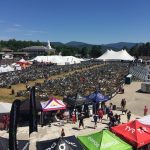 2. Being able to compete with so many incredible and inspiring athletes. I LOVE triathlons. Nothing is better than the people you meet and the friendships you create along the way. This sport has introduced me to so many awesome people. Their energy and equal drive & dedication helps fuel me. We are in this journey of life together. We support and look out for each other and that's pretty incredible.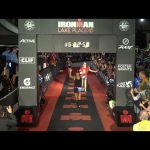 1. Running down the shoot, seeing the Ironman red and black carpet, bright lights & having my name called out and the words you are an Ironman, was unlike anything I have ever experienced. It was a huge sense of accomplishment for me. I couldn't help but feel ecstatic and proud.
I have done some pretty incredible things in my life so far and completing an Ironman was certainly on my lists of favorites.  You've got one life, why not do it all. I can't wait to see where I'll go from here, but get ready, because this girl isn't slowing down any time soon!!
You can be an Ironman too… ANYTHING IS POSSIBLE.